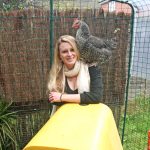 How chickens helped to inspire a creative business.
My chicken-keeping adventure began in June 2013 when I decided to buy three chickens as pets. I've always been interested in animal welfare and loved the idea of having a supply of fresh eggs from my own garden. I quickly noticed that people are often surprised at how loving and affectionate chickens are capable of being when you take the time to bond with them – they make wonderful pets. There's nothing quite like collecting a freshly laid egg from the nest especially when you know that the hen it came from is living a fantastic life.
Keeping the chickens really helped me to switch off from the everyday stress of a busy life and to reconnect with my creative side. There's a real comedy value to chickens – they have their own little quirky personalities and are so amusing. I began to watch over them, sketchbook in hand, and try to capture the little moments that made me smile. There's a real therapeutic benefit to both art and chicken-keeping – the two go hand in hand! They have proven to be a fantastic inspiration for my greeting card designs and handmade products. You could even say I was 'hen-spired'!
My art began as a relaxing hobby but has since grown into a creative small business called 'Yellow Chicken House Designs', bringing you an eclectic range of illustrated greeting cards and gifts. I draw animals as I see them – with unique personalities, and now have a range of over 145 cards & gifts featuring quirky designs for other animal-lovers to enjoy. Chickens are my niche and happen to be the UK's sixth most popular pet.
Along with chickens, my product designs have been influenced by the many wonderful aspects of country living as I resided for 10 years in the coastal town of Aberystwyth, West Wales. In 2016, I relocated to the fine city of Norwich, where I live with my partner, cat and a much-loved chicken called Speckledy.
I hope you enjoy browsing our range of greeting cards and gifts. To stay up to date with my latest product ideas and designs, please like us on Facebook or follow us on Twitter and Instagram: